Malibu, California
, is known for sun, surf, and celebrities. Situated along 27 miles of the glorious Pacific Ocean coastline, Malibu is a quintessential beach community with showcase-worthy
beachfront properties
, plenty of outdoor recreation activities, and a decidedly luxurious feel.
Malibu homes range from cutting-edge and modern to charming and sustainable, and Malibu luxury estates are trendsetting in their own right. Whether you're considering a remodel or building a Malibu dream home from the ground up, here are a few 2022 luxury Malibu real estate trends to serve as a springboard of inspiration for your project.
Heated floors
Heated floors may seem like an afterthought, but nothing could be further from the truth. Homeowners are seeking to create lavish-yet-natural spaces with the use of slate, wood, or tile. While these materials lend to the overall aesthetic of a room, they can be a bit cold. Heated flooring, especially in the bathroom, ensures your spa-like experience isn't ruined by cold floors. It's relatively inexpensive to install heated flooring if you're planning to renovate your flooring, and it is a nice touch that will make your home more comfortable.
Kitchen islands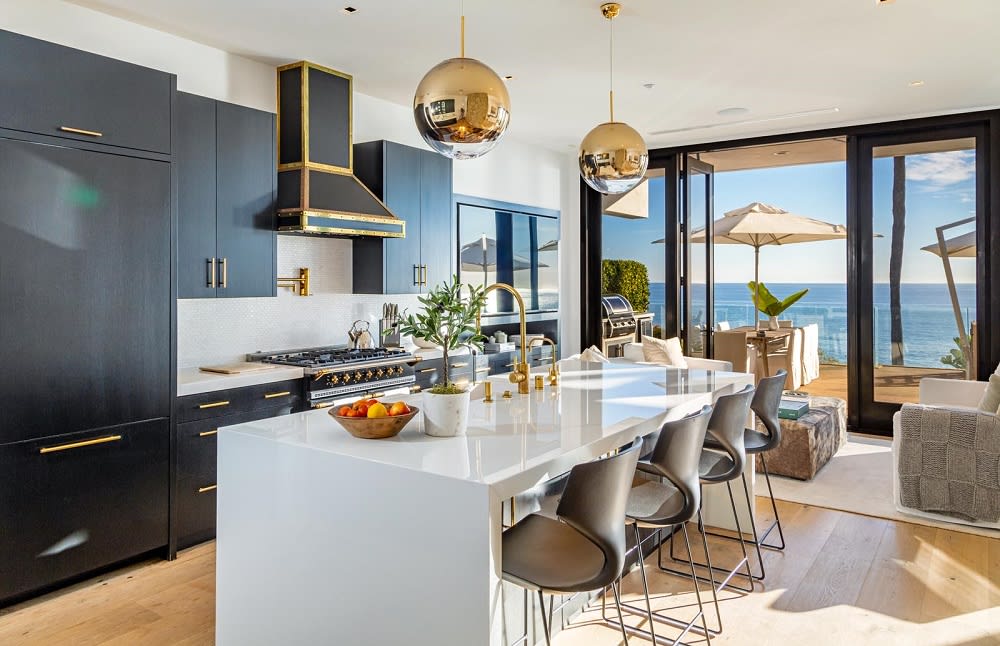 Photo courtesy of Brian Merrick - Broad Beach
Kitchens are a central focal point of a home and serve as a gathering space for entertaining. Kitchen islands are by no means a new luxury home trend, but they are becoming more elaborate and functional. Kitchen islands provide vital and discreet storage space for food preparation and entertaining. Homeowners are opting to include appliances, such as wine fridges, into their kitchen island designs as well as prep sinks and using various materials to blend seamlessly into the space.
Creative storage solutions
Keeping a home neat and tidy comes with its struggles. And, it's easy to fall into the trap of clutter taking over your home. Thankfully, built-in and creative storage solutions solve this dilemma in style and integrate with the surrounding spaces.
Proper storage is the hallmark of a highly functional home. Custom cabinetry can provide practical solutions and keep heavy appliances off countertops. Creative storage can house the laundry hamper or keep cords out of the way. When choosing storage solutions, go with a mix of hidden, open, and cabinet storage solutions to keep spaces interesting.
Reclaimed elements
Reclaimed materials have long been a staple of luxury home trends that continue in 2022. This can be a single antique door, repurposed brick or stone, or an entire curated collection of various reclaimed pieces. Designers use reclaimed materials to create layers of time. And, if you're doing a home renovation, consider salvaging pieces from your old build and using them in new, exciting ways.
Wet bathrooms
Wet bathrooms are a lot like their name implies — a bathroom with waterproof surfaces and a center drain on the floor.
Wet bathrooms
have gained popularity for their open floor plans. No longer are showers closed off behind curtains or doors. Now, wet bathrooms with walk-in showers do away with these barriers for a luxury, spa-like experience. Prospective homebuyers of houses for sale in Malibu enjoy the stylish, contemporary design of these open floor plan bathrooms.
Freestanding bathtubs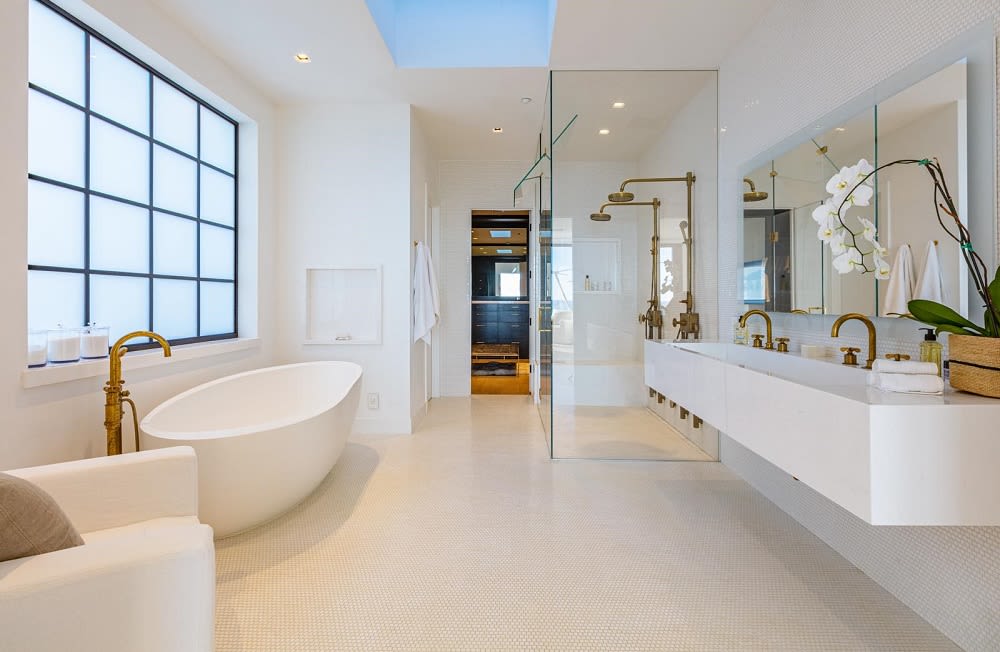 Photo courtesy of Brian Merrick - Broad Beach
Along with wet bathrooms, freestanding bathtubs are on the rise. Connected bathtub and shower combos are quickly becoming a thing of the past. According to a
2021 U.S. Houzz Bathroom Trends Study
, of the 37 percent of homeowners who opted to give their bathtub an upgrade when renovating their home, 54 percent decided to install a freestanding acrylic soaking or spa tub.
Going green
Going green could refer to incorporating sustainable or eco-friendly materials into your home's design. However, in this instance, going green is all about
the color
. Major paint brands PPG, Behr, and Sherwin-Williams are projecting green to be featured prominently in home interiors because it's a highly versatile color. Depending on the shade, it can add a pop of vibrance, tie in natural elements, and meld well with neutral color palettes.
Curvy lines
Furniture with curvy lines and contour is making a comeback. Rounded sectionals, stylized chairs, and wavy tables are popular among trendy homeowners seeking to soften some of the harder lines in their spaces. Curvy furniture brings movement to a space and adds a bit of fun to a piece's form and function. Your home doesn't need to turn into a carnival funhouse; a simple curvy or wavy piece of furniture is enough to use this fun luxury home trend in the interior design of your Malibu real estate.
Outdoor living spaces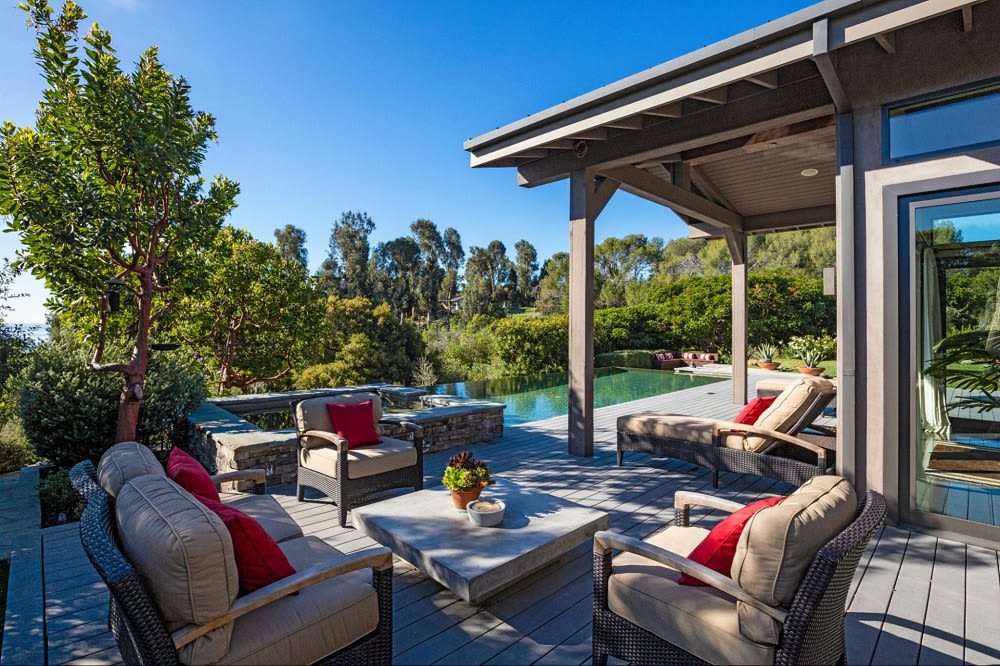 Photo courtesy of Brian Merrick - Zuma View Place
As more people find themselves spending time at home, Malibu outdoor living spaces are transforming into more than just patio furniture on a deck. Nicely appointed backyard spaces are becoming extensions of their interior counterparts. Full outdoor kitchens, outdoor living rooms, and even outdoor bathrooms and showers are being incorporated into luxury new constructions and renovation design plans in homes for sale in Malibu. Advancement in outdoor materials allows designers to create outdoor spaces that easily rival what can be found inside the house, extending your home's usefulness beyond the confinement of its walls.
More privacy
If you're finding yourself spending more time outdoors while you're at home, odds are you will want to do so away from prying eyes. Homeowners are creating backyard getaways and spaces for serene relaxation. Landscapers can utilize well-placed, natural privacy screens, such as hedges or covered pergolas, to keep outdoor spaces private. Screens, fences, and other privacy options not only ensure you have the privacy you want, but they can also help to delineate spaces or block unsightly views.
Make a splash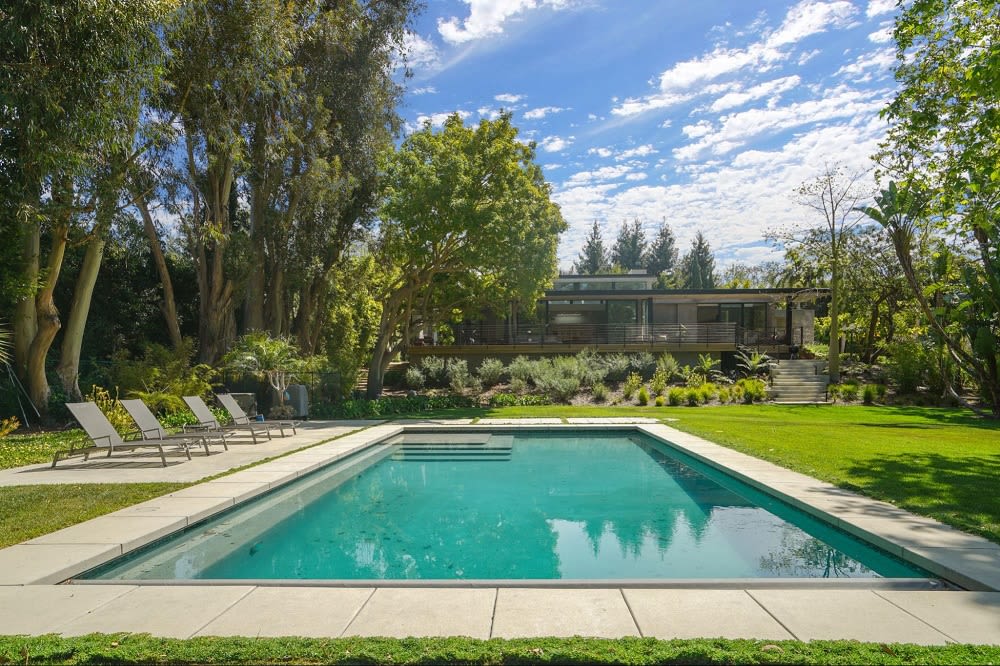 Photo courtesy of Brian Merrick - Busch
According to a recent National Association of Realtors
REALTOR Magazine article
, homes with pools are selling at a premium. This, too, ties in with people seeking to create relaxing outdoor spaces to get away from it all in the comfort of their own homes.
Pools and luxury homes go hand-in-hand, but trends in the styles of pools are changing. Design pros are seeing an increase in requests for different types of pools that are more manageable and flexible. Lap pools, plunge pools, or smaller infinity pools are finding their way into all types of home designs in Malibu real estate.
Home offices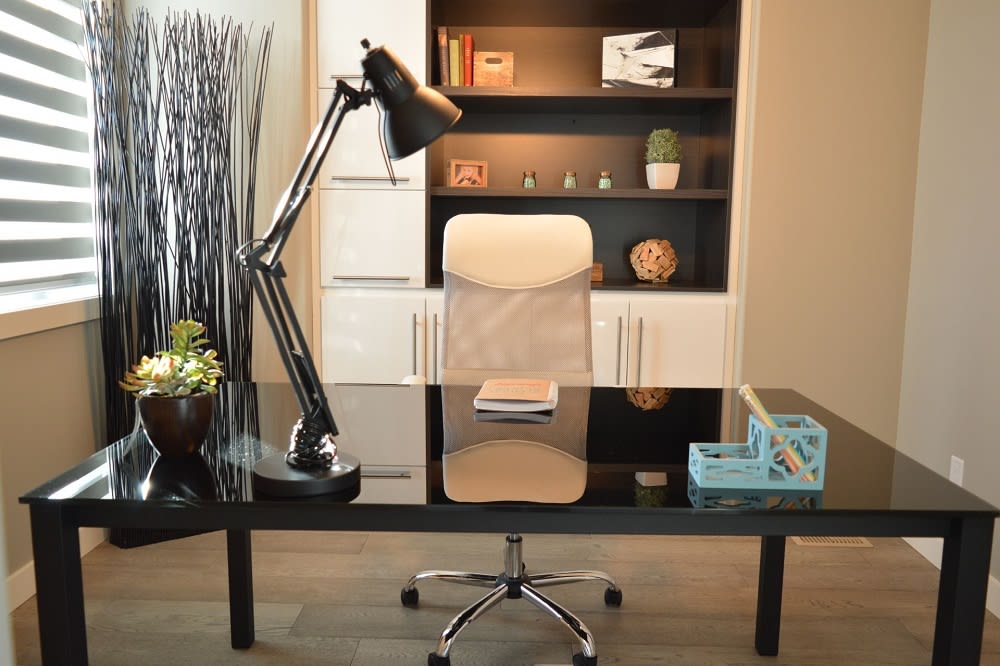 Photo courtesy of Pexels
In recent years, many homeowners have realized they can work from home. Home offices provide a space to work and be productive. And, as a result, luxury home designers are increasingly incorporating home offices into their design plans.
However, if you don't currently have a home office, you can still convert an existing room or space into a functional home office with little effort. Including a home office in your remodel or
new construction plans
gives you a place to work remotely and makes your home more attractive to potential buyers should you decide to sell it one day.
Activity spaces
Photo courtesy of Brian Merrick - Broad Beach
An activity space is a part of your home where you can get active or entertain yourself and guests. These spaces can include home gyms, home yoga or art studios, in-home theaters, and game rooms. Dedicated activity spaces allow for creative or recreational outlets and enable you to follow your hobbies without leaving the comfort of your home.
Formal dining rooms
Open floor plans with formal dining rooms are seeing a resurgence as homeowners resume hosting dinner parties and formal gatherings. Dedicated dining rooms give you a more traditional place to enjoy meals and potentially serve double-duty as flexible rooms for other uses.
Showroom-style changing rooms
Walk-in closets are getting an upgrade with this luxury Malibu mansions trend. Now, homeowners are opting for large, showroom-style changing rooms that resemble something you'd see in any Rodeo Drive or high-end boutique. Vibrant display areas, glam or vanity stations, ample seating and lighting, and meticulously organized clothing bring a high-end shopping experience into your home. Proudly display a purse or watch collection, accessories, and shoes in your showroom closet. These closets take up a lot of space, but you'll be the envy of your fashion-forward friends if you include one.
Bring the outside in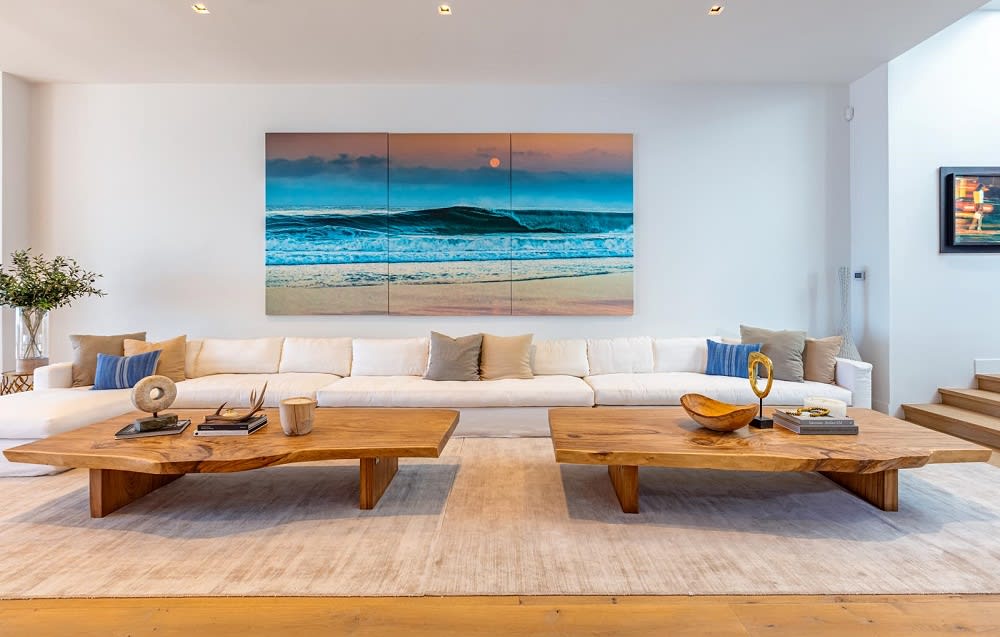 Photo courtesy of Brian Merrick - Broad Beach
Bringing elements of the outdoors inside is gaining traction in 2022. Not only are vibrant, green color palettes popular, but plants, trees, and other natural elements are also making their way indoors. Outdoor elements bring a sense of peace and relaxation to a space and serve as a springboard for ideas and color schemes.
If you're interested in bringing your unique design interests to Malibu real estate, reach out to
Brian Merrick
. Specializing in the gorgeous properties of Pacific Palisades, Malibu, and Calabasas and ranked in the top 1% of realtors worldwide, Brain and his
team
are well-versed in everything "luxury" and will be your guide to coastal living.
*Header photo courtesy of Brian Merrick - Broad Beach